Brisbane Ticket Information
OPENING NIGHT GALA
MASQUERADE

With complimentary drinks on arrival, entertainment and a premium food box!

WEDNESDAY 15 MARCH

6pm arrival for 7pm film
Palace Barracks

Tickets:
Alliance Française de Brisbane & Palace Movie Club members* $50.00
Non-members $55.00
OPENING NIGHT RECEPTION
MASQUERADE

With a complimentary drink on arrival and a food box!

WEDNESDAY 15 MARCH

6:30pm arrival for 7pm film
Palace James Street

Tickets:
Alliance Française de Brisbane & Palace Movie Club members* $35.00
Non-members $40.00

With a complimentary drink on arrival and a food box!

WEDNESDAY 12 APRIL

6.00pm arrival for 6:30pm film
Palace Barracks

Tickets:
Alliance Française de Brisbane & Palace Movie Club members* $35.00
Non-members $40.00

Each session includes a complimentary drink on arrival and a food box!

TASTE OF FRANCE
Sugar and Stars

Sunday 19 March
3.30pm arrival for 4pm film
Palace Barracks

HARMONY DAY
The Black Pharaoh, The Savage and The Princess

Tuesday 21 March
6pm arrival for 6.30pm film
Palace James Street

IN THE DEEP BLUE
The Big Blue

Wednesday 22 March
6pm arrival for 6.30pm film
Palace Barracks

AF PRIDE
Lie with Me

Tuesday 28 March
6pm arrival for 6.30pm film
Palace James Street

Tickets:
Alliance Française de Brisbane & Palace Movie Club members* $30.00
Non-members $35.00

Each session includes a glass of French wine!

FRENCH WINE, GOOD WINE
The Tasting

Thursday 23 March
6.15pm arrival for 6.30pm film
Palace James Street

LADIES NIGHT
Two Tickets To Greece

Thursday 30 March
6.15pm arrival for 6.30pm film
Palace Barracks

WOMEN'S RIGHTS
Annie's Fire

Wednesday 5 April
6.15pm arrival for 6.30pm film
Palace James Street

Tickets:
Alliance Française de Brisbane & Palace Movie Club members* $23.00
Non-members $29.00
Please note that Opening Night, Closing Night, Flix & Wine sessions and Special Events are 18+
TICKET PRICES

GENERAL ADMISSION
(Excluding Opening/Closing Nights, Flix & Wine sessions and Special Events)

Alliance Française de Brisbane & Palace Movie Club Members* $17.00
Adult $22.00
Concessions** $18.00
Children 12 & under (see classifications) $14.00

*Two discount tickets per membership card per session will apply. Proof of concession/ membership must be presented at the cinema box office to obtain discount.
**One discount per concession. Eligible concessions: senior (60+), pensioner, full-time student, Under 25s. Proof of concession/membership must be presented at the cinema box office to obtain discount
To purchase your Alliance Française Membership, visit www.afbrisbane.com.au, and your Palace Movie Club Membership, visit www.palacecinemas.com.au


GROUPS
(Excluding Opening/Closing Nights, Flix & Wine sessions and Special Events)

Groups (10+) $15.00
Bookings and enquiries for group bookings: events.qld@palacecinemas.com.au
Primary and Secondary School Groups (20+)*** $12.00
***1 teacher free for every 20 students.
Bookings and all enquiries for school screenings: schools@afbrisbane.com


E-TICKET BUNDLES (MOVIE CLUB)
(Excluding Opening/Closing Nights, Flix & Wine sessions and Special Events)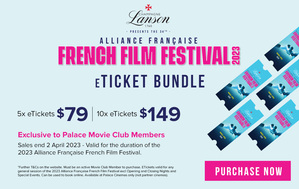 10 FILM E-BUNDLE (MOVIE CLUB): $149.00
5 FILM E-BUNDLE (MOVIE CLUB): $79.00

The Alliance Française French Film Festival eTicket Bundles can be purchased and redeemed by Palace Cinema Movie Club Members only (free tier available) at any Palace Cinema in VIC, NSW, QLD, ACT & WA at the box office or on www.palacecinemas.com.au . Bundles need to be purchased via the Palace Movie Club Member Portal (sign into your membership account in order to purchase). Tickets can be redeemed throughout the duration of the 2023 Festival in each participating state. Please note that the offer is not available to SA. Tickets are valid for Palace Cinemas only, not for partner cinemas (such as Palace Nova or Luna Palace).


ADVANCE TICKETS ON SALE FROM THURSDAY 9 FEBRUARY


ONLINE
Tickets for all venues are available securely online at www.affrenchfilmfestival.org and www.palacecinemas.com.au
All major credit cards accepted (excluding Diners). Booking fees apply.

IN CINEMAS
Cinemas can only sell tickets for their respective venues. There are no booking fees for purchasing at cinema box offices, however surcharges for credit cards apply.

PALACE JAMES STREET
39 James Street, FORTITUDE VALLEY, QLD 4006
(07) 3852 4488

PALACE BARRACKS
61 Petrie Terrace BRISBANE, QLD 4000
(07) 3367 1356


BY PHONE
Phone bookings by credit card only (ex. Diners), which will be debited at time of booking and must be produced when collecting tickets.
Patrons are encouraged to collect tickets 30 min prior to the session to avoid queues.
Credit card transactions by phone will incur booking fees and a credit card surcharge.
When calling during busy periods, there may be a delay in answering the phone. Please try again later, or visit the website.
GENERAL FESTIVAL CONDITIONS
All festival films are restricted to persons 18 years of age and over, unless specified (see classification recommendations). This relates to the legal requirements of holding the festival, as set by the Classification Board. Box office hours vary between venues. Please check the venue
ticketing page for box office hours. Please ask at the venue for accepted credit cards and credit card surcharges.

Festival tickets, once acquired, are nonrefundable and non-exchangeable. Lost or stolen tickets will not be replaced or refunded. Ticket price
includes GST.
We anticipate that door sales will be available for most sessions, however this cannot be guaranteed. Patrons are urged to purchase their
tickets in advance to avoid disappointment.

Patrons are encouraged to collect booked tickets 30 minutes prior to the session to avoid queues.

Palace Cinema passes and other complimentary passes, cinema promotions and free ticket offers are not valid for festival screenings.

Dates, times and programs are correct at the time of publication, but may need to be altered due to unforeseen circumstances. We reluctantly reserve the right to withdraw, change and replace programs without notice.

All non-English language films have English subtitles.

Seating is reserved at Palace James St and Palace Barracks.