Canberra Ticket Information
OPENING NIGHT GALA
MASQUERADE

THURSDAY 9 MARCH

6pm arrival for 6.30pm film
After-party from 9pm with French canapés, wine and music!
Palace Electric Cinema
Sponsored by Fromager d'Affinois and Ondine – European Brasserie

Tickets:
Alliance Française de Canberra & Palace Movie Club members* $55.00
Non-members $65.00

WEDNESDAY 5 APRIL

6pm arrival for 6:30pm film
Palace Electric Cinema
Sponsored by La Baguette by R&M

Tickets:
Alliance Française de Canberra & Palace Movie Club members* $35.00
Non-members $40.00

Palace Electric Cinema.
Check schedule for session times. Each session includes a glass of French wine on arrival!

PLAYGROUND – Belgian Night
Tuesday 21 March
Sponsored by the Embassy of Belgium

THE TASTING
Thursday 23 March

Tickets:
Alliance Française de Canberra & Palace Movie Club members* $23.00
Non-members $29.00

Palace Electric Cinema
Each session includes French delicacies, a glass of French wine and music!

LADIES' NIGHT
Two Tickets to Greece
Thursday 16 March, 6pm arrival
for 6:30pm film
Sponsored by HerCanberra

TASTE OF FRANCE
Sugar And Stars
Sunday 19 March, 3.30pm arrival for 4pm film
Sponsored by La Buvette

HUMAN RIGHTS NIGHT
Q&A session after the film by ANU
Annie's Fire
Thursday 30 March, 6pm arrival
for 6:30pm film

Tickets:
Alliance Française de Canberra & Palace Movie Club members* $30.00
Non-members $35.00
Human Rights Night: ANU Student $15.00
TICKET PRICES

GENERAL ADMISSION
(Excluding Opening/Closing Nights, Flix & Wine Events, Special Events)

Alliance Française de Canberra & Palace Movie Club Members* $19.00
Adult $24.00
Concessions** $19.00
Children 12 & under (see classifications) $15.00
Students' weekday sessions (before 4.30pm) $15.00

Proof of concession/membership or ID/student card must be presented at the cinema box office to obtain discount.
*Two discount tickets per membership card per session will apply.
**One discount per concession. Eligible concessions: senior (60+), pensioner, full-time student, Under 25s.
To purchase your Alliance Française Membership, visit www.afcanberra.com.au and your Palace Movie Club Membership, visit www.palacecinemas.com.au


GROUPS
(Excluding Opening/Closing Nights, Flix & Wine Events, Special Events)

Groups (20+) $15.00
Primary and Secondary School Groups (20+)*** $12.00
***1 teacher admitted free for every 20 students.
For bookings, please contact: (02) 6222 4906 or Events.act@palacecinemas.com.au


E-TICKET BUNDLES (MOVIE CLUB)
(Excluding Opening/Closing Nights, Flix & Wine Events, Special Events)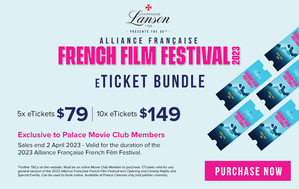 10 FILM E-TICKET BUNDLE (MOVIE CLUB): $149.00
5 FILM E-TICKET BUNDLE (MOVIE CLUB): $79.00

The Alliance Francaise French Film Festival eTicket Bundles can be purchased and redeemed by Palace Cinemas Movie Club Members only (free tier available) at any Palace Cinema in VIC, NSW, QLD, ACT & WA at the box office or on www.palacecinemas.com.au . Bundles need to be purchased via the Palace Movie Club Member Portal (sign into your membership account in order to purchase). Tickets can be redeemed throughout the duration of the 2023 Festival in each participating state. Please note that the offer is not available to SA. Tickets are valid for Palace Cinemas only, not for partner cinemas (such as Palace Nova or Luna Palace).


ADVANCE TICKETS ON SALE FROM THURSDAY 9 FEBRUARY

IN CINEMA
At box office daily from 11am to 8.30pm until sold out. There are no booking fees for purchasing at cinema box offices, however surcharges for credit cards apply.

PALACE ELECTRIC CINEMA
NewActon Nishi
2 Phillip Law Street
Canberra ACT 2601
Ph.: (02) 6222 4900

ONLINE
Tickets for all venues are available securely online at www.affrenchfilmfestival.org and www.palacecinemas.com.au. All major credit cards accepted (excluding Diners). Booking fees apply.
GENERAL FESTIVAL CONDITIONS


All festival films are restricted to persons 18 years of age and over, unless specified (see classification recommendations). This relates not necessarily to the content of the films, but to the legal requirements of holding the festival, as set by the Classification Board.

Box offices hours vary between venues. Please check the venue ticketing page for box office hours. Please ask at the venue for accepted credit cards and credit card surcharges.

Festival tickets, once acquired, are nonrefundable and non-exchangeable. Lost or stolen tickets will not be replaced or refunded. Ticket price includes GST.

We anticipate that door sales will be available for most sessions, however this cannot be guaranteed. Patrons are urged to purchase their tickets in advance to avoid disappointment. Reduced seating capacities due to government restrictions may result in limited tickets being
on sale and this may change if more tickets are released at a later date. Updates will be provided via festival and venue websites and we encourage patrons to follow us on social media for the most current information.

Patrons are encouraged to collect booked tickets 30 minutes prior to the session to avoid queues.

Palace Cinema passes and other complimentary passes, cinema promotions and free ticket offers are not valid for festival screenings.

Dates, times and programs are correct at the time of publication, but may need to be altered due to unforeseen circumstances. We reserve the right to withdraw, change and replace programs without notice. Best efforts will be made to notify patrons in advance.

All non-English language films have English subtitles.

Seating is reserved at Palace Electric Cinema.